A lot of people that love Minecraft also like the idea of gambling. If you are one of those persons, then you will most likely enjoy what the Lucky Block Mod [1.17.1/1.16.5] has to offer to you. As the name states, this mod has a set of lucky blocks that you can use in order to get some random items as you play.
Lucky Block Mod Installation
The mod just needs Minecraft Forge to be set up.  Follow the steps below to install the mod.
Download and install Minecraft Forge.

Download Lucky Block Mod with the hyperlink below.

Drag and drop the downloaded (.jar) into the mods folder within Minecraft directory.  
You can get gold ingots or you can easily get a really good item that you can rarely craft in the game. The Lucky Block Mod is all about luck here. According to the creators the Lucky Block Mod has around 100 different possibilities that you can access.
While this is not an infinite number, the reality is that you can spawn lots of cool stuff. For example, you can spawn a wishing well that poisons characters. You can also spawn the ender dragon, as well as iron, gold, coal, diamonds and so on.
The Lucky Block Mod also features multiple effects for the lucky block. Once you install the mod, you will find this block in the inventory. However, if you break it, then you will not be able to get another one. So yes, you have to remember that you need to take care of it the best way you can. It's crucial to handle this mod with extra care, but if you do that, you will find that the items inside this block are well worth the effort.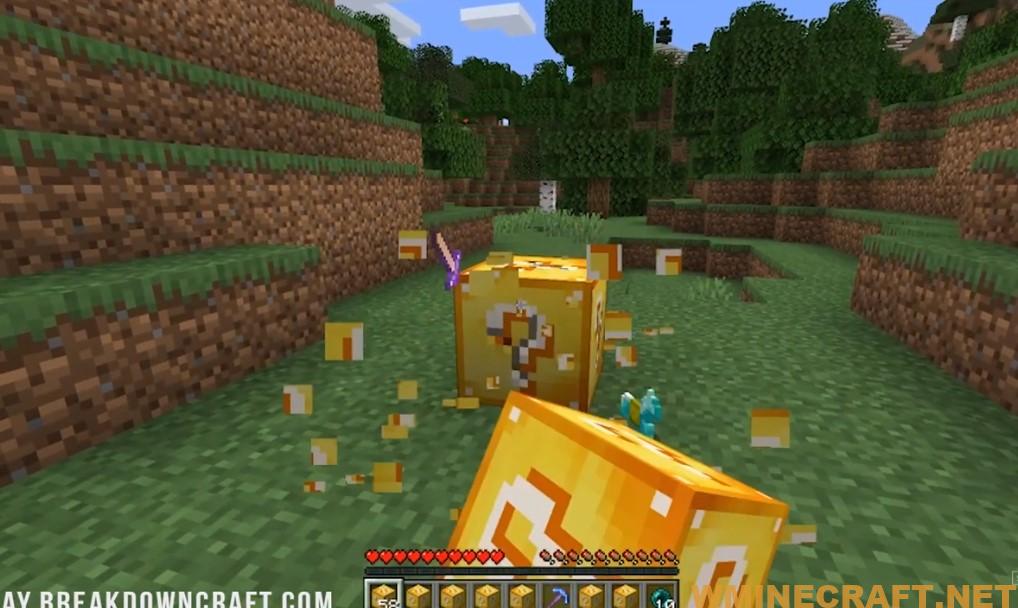 The visual effects added in Lucky Block Mod are quite impressive. They do help make the game a lot more fun and interesting, which all of them are things you want to have. Plus, Lucky Block Mod is designed to be very fun to use as well.
However, if you lost or broke it, you can craft one. You need 4 ingots and a dropper. The idea is that you won't get one for free, you have to craft it once you destroy the free one. It's a nice approach to have and the mod is designed to make the game experience a lot more fun and interesting than it is right now.
Spawning creatures, ingots, items or entities is very interesting for a game like Minecraft. Lucky Block Mod comes with that level of uncertainty since you never know what you are going to get. That makes the game so interesting and exciting to the point where you may want to check it out, as it really is a fun one to have. It won't affect the game in any way, of course, but it will fulfill your gambling needs!