EnviroMine is all about environmental realism; whether it be physics, body temperature, thirst, clean air, or even keeping a sane mind in Minecraft's labyrinth of dark caves, it will test your survival skills and endurance.
EnviroMine Mod Installation
EnviroMine Mod requires Minecraft Forge to be installed.
Just like with the majority of the Forge-based mods, this superb mod employs the typical setup process.
Download the version of this mod you need, download buttons are below.

Catch the downloaded file.

Drop and place the downloaded file from the mods folder inside Minecraft's directory (%appdata%/.minecraft/mods).

Play Minecraft with the latest Forge version, or the edition of your choice.

Enjoy, this is awesome.
Enviromine Mod
is the regular minecraft wild too boring?
we've brought a mode that makes the wild a little more interesting!
first of all, i've tried to connect to the world with the mode.
the four most prominent status gauges below
let's start with the body temperature in the upper left corner.
affected in various situations.
when i stay next to lava and the hearth, body temperature rises
if you're in ice or shady places, your body temperature will drop.
when it's hot, you'll get heat stroke.
if it's too cold, it's hypothermia and it takes a debuff.
let's look at the thirst right below.
Thirst 
activities will thirst and the thirst gauge will gradually decrease.
drinking seawater has a 'thirst' effect.
thirst gauges shrink faster
therefore, it is recommended to drink water from purified water or in a regular pool.
let's go to the right and see the spirit at the top.
it's also called mental.
sanity
a gauge that kills an undead monster, is attacked by an enderman, or mows when health is low.
the lower the gauge, the more motion sickness and hallucinations you will see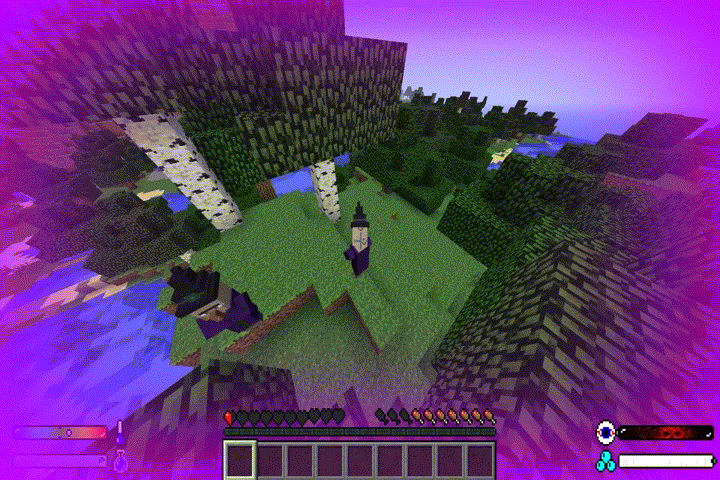 you'll see yourself as a monster, and you'll see it as a monster.
hallucinations can also cause monsters that are visible only to you.
if you're in a place with flowers around you, sleeping, or next to enderdragon eggs, your mind returns.
Oxygen Concentration (Air Quality)
THIS IS A GAUGE THAT SHRINKS WHEN A PLAYER GOES BELOW Y=48.
and just by baking unspokenly in the hearth, or with a torch on the side, the oxygen concentration is reduced further.
you should use an oxygen mask to keep the oxygen concentration normal, or have plants like leaves
when oxygen levels are lowered,
takes restraint and fatigue
(not heat stroke)
in addition to this,
simple physics is applied.
you can also build an elevator to the mine.